Minor Home Repair
Program
Jackson-Union County Habitat for Humanity is excited about our Minor Home Repair Program. Through this program, local low-income homeowners are able to apply for assistance with necessary minor home repairs.
Qualified applicants must:
Own and reside in a home in need of minor repairs (no rental properties)
Have proof of homeowner's insurance coverage
Reside within Jackson County
Fall within specified income guidelines (Fall below 60% of the combined median household income for Jackson County)
Materials for repair must cost less than $500
Materials for repair must be paid 100% by homeowner unless financial assistance is needed and financially available
Agree to partner with Habitat in all aspects of the repair project
Project requests may include:
Minor inside plumbing repairs
Minor roof repair on low slope roofs
Building or repair of small ramps
Minor repairs to porches or railings
Minor window or door repair
Partial weatherization
Minor inside wall repairs
Screen repair to windows and doors
Minor gutter repair and cleaning
Project requests may not involve:
Elective reconstruction or remodeling projects
Redecorating projects or unnecessary aesthetic changes
If you qualify for this program and have a need for minor home repairs, please call (618)687-4228 or email juchabitat618@gmail.com for more information or to request application materials. You may also CLICK HERE to download an application for a repair costing over $250. Or CLICK HERE to download an application for a repair costing under $250. An application must be completed. Note that applications must include all required attachments listed below. Incomplete applications will not be accepted.
Required Attachments:
Most recent property tax bill
Documentation of homeowner's insurance
Documentation of income or financial assistance received by all members of the household
Submit your completed application and attachments to Jackson-Union County Habitat for Humanity, P.O. Box 1064, Carbondale, IL 62903. Applications will be reviewed and approved as they are received. Once approved, projects will be completed based on the level of need, and on the availability of volunteers and funding.
2017
Projects
ONE - WHEELCHAIR RAMP
TWO - CONSTRUCTION OF GABLED ROOF TO PREVENT FURTHER RAIN DAMAGE AND REPAIR OF INSIDE RAIN DAMAGE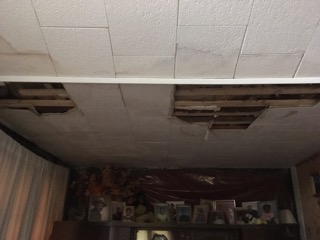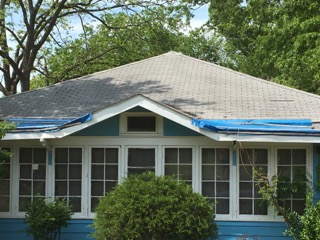 THREE - PAINTED FRONT AND BACK PORCHES AND MADE REPAIRS ON PORCHES
FOUR - BUILT HANDRAILS AND INSTALLED GRAB BARS ON FRONT AND BACK PORCHES
FIVE - SCRAPED AND PAINTED ENTIRE HOUSE AND DID REPAIRS ON SOFFITS